Discover the ENAC Foundation.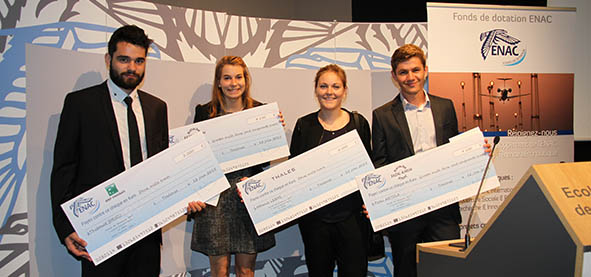 At the end of 2012, ENAC Foundation was created as an independant legal structure by ENAC. It has been a considerable asset for the school, as its development plan includes :
Strengthening ENAC international appeal
Allowing for integration of all talents
Developing research and innovation
As a tool for the promotion and recognition of ENAC  know-how, ENAC Foundation seeks to propose innovative projects outside the usual scope of the school's actions. It associates new funding based on individual and corporation philanthropy.

Companies eager to partner our school and benefit from its renown in its areas of excellence provide support as a sponsor.  They may finance, among other projects, teaching and research chairs, international grants and funding for humanitarian and social projects.

The philanthropy initiative allows companies and individuals to obtain tax relief on their donation. ENAC Foundation is a separate legal entity from the school. It responds to criteria set out in French law no. 2008-776 of 4th August 2008, known as the law for modernization of the economy and by decree no. 2009-158 of 11th February 2009 relating to Endowment Funds (Journal Officiel of 13th February 2009).