ENAC offers a wide range of high level training - among the best in the world - destined for airline professionals.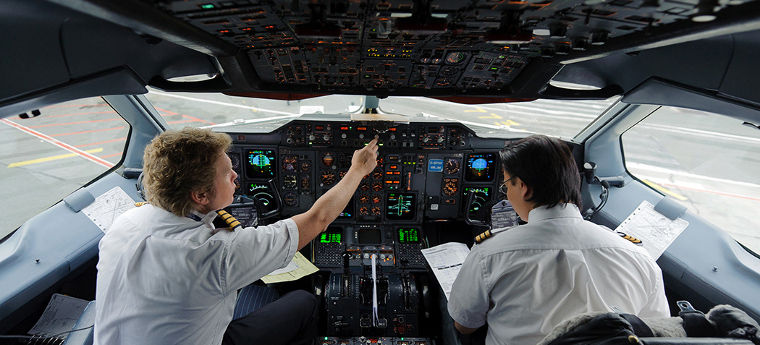 Airline Transport Pilot Licence - ATPL
The final goal of this ab-initio pilot training is to deliver an efficient co-pilot on an airline jet transport aircraft. Multi-pilot concept and procedures will begin after the student pilot has acquired strong flying skills in basic training.
During the training, in addition to technical competencies, emphasis is placed on developing rigor, professional behavior and faculties of adaptation.
Many airlines worldwide have already entrusted the training of ab initio pilots to ENAC.
Airline Pilote – EPL
For European citizens only.
This optimized integrated ATP course is designed for candidates who have passed the EPL pilot assessment.
It brings an "ab-initio" applicant up to the Multi Crew Cooperation course. This training also includes a Jet Oriented Course on A320 simulator.
For more information about EPL, please visit the EPL webpage - in French ///
Multi-crew Cooperation - MCC
After acquiring basic technical piloting skills, the student transfers his know how to a jet aircraft and learns to work as a crew. Emphasis is placed on the development of non-technical skills :
Decision making
Leadership and Assertiveness
Communication
Workload management
Threat and error management
Multi-crew Pilot Licence - MPL
Since 1947 traditional training for airline pilots has followed a prescriptive compartmentalized process from ab-initio training in light propeller SE to airline type transition. There has been a developing awareness that new actions are needed in training to integrate the use of advanced synthetic training tools of high levels of fidelity (FSTD) These programs would focus on the development of multi-crew operation competencies instead of single engine pilot in command flying, to develop strategic thinking and decision making in parallel with technical knowledge and skills.
Following the recommendations of ICAO, ENAC decided to develop in partnership with a major airline a new design of training to transfer appropriate Knowledge Skills and Attitudes (KSAs) for safe, effective and efficient multi-crew flight operations to students much earlier in the ab-initio training process.
ATR 42/72 Type Rating
The MCC-QT ATR COURSE includes a theoretical and practical training to acquire the knowledge and techniques to fly a multi pilot aircraft with optimal decision making, communication and task sharing in all phases of a flight in normal, abnormal and emergency situations. It enables the candidate to act as an ATR 42/72 first officer in an airline. Throughout the training, the human factors perspective (human-machine interactions and use of automations) and the following qualities will be particularly developed:
Professional behavior (judgment, discipline etc...)
Interpersonal skills necessary to work in a multi pilot environment,
Adaptability
Non-technical skills
Flight Instructor training - FI
ENAC has extensive expertise in instructor training. From initial Flight instructor rating to Type Rating instructor on Single Pilot Complex aircraft or Multi pilot aircraft, the trainee will benefit from the wide technical and educational experience of ENAC.
ENAC has particularly developed in recent years the Competency Based Training concept it implements in its Flight Instructor program.