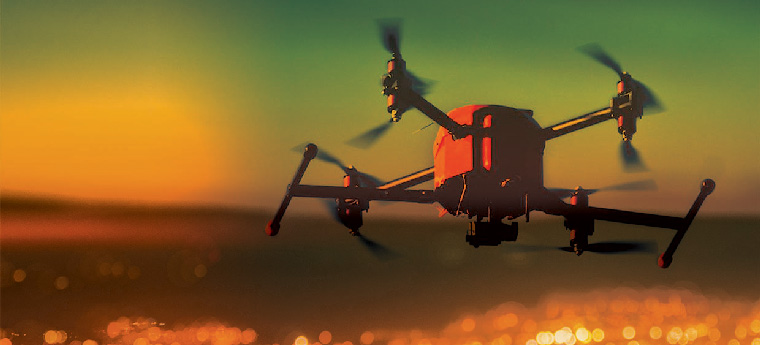 Content and objectives
Drones aka UAS, UAV, or RPAS are revolutionizing the civil aviation industry. It has been adapted for commercial use on a  global scale  creating new opportunities in the market. 
The air transport, the audio-visual, the transportation, the agriculture domain, the defense industry as well as the energy sector are seeking experts in the new technology and its management.
Operators, Manufacturers and Air transport regulatory bodies need high-level experts. To meet this demand, ENAC developed this Advanced Master in close partnership with major users of drones such as Airbus, SAFRAN, Thales, RTE, SNCF, Engie, Bouygues, ADP Group, Delair-Tech, Airborne Concept etc.
As a graduate of the ENAC Advanced Master in Unmanned Aircraft Systems Services and Management (UAS Services & Management), you will be given the tools and techniques to understand the technology while ensuring the transformation of upcoming challenges into opportunities.
Professional prospects and career opportunities
At the end of their training, graduates will be able to perform the following functions:
For regulatory authorities:

Auditor, Supervisor, Expert, Regulatory Officer, Research Manager, within the French or foreign

For UAV manufacturers:

Manager, Project Manager, Business Developer, Project Manager, Engineer, Designer, Test Manager

For drones operators:

Manager, Business Developers, Project Manager, Subsystem Integrator, Operations Manager, Technical Manager, Data Processing Manager, Customer Manager, Development Manager
Programme
The Advanced Master is taught within a full time program (around 430h) on the ENAC campus in Toulouse. All content will be delivered in the English language.
At the end of the first semester, you will have the opportunity to take an ESP internship in   a company of the field which will lead to a professional thesis defense.
3 main blocs:
Requested language qualification :
BULATS : 60-74
TOEIC : 785-944
TOEFL (IBT) : 87 - 109
TOEFL (CBT) : 180 – 226
TOEFL (PBT) : 505 – 564
CAMBRIDGE : First (FCE) Business Vantage (BEC)
IELTS : 5 – 6
PTE : 3
DCL : D2
CLES : 2
CERCRL : B2
Selection and admission made by admission committees organized from January to July.
Your Contacts
Recruitment
Michel Chauvin : michel.chauvin@enac.fr
+33 (0)5 62 17 46 71
Academics
Dominique Vial : dominique.vial@enac.fr
+33 (0)5 62 17 40 15