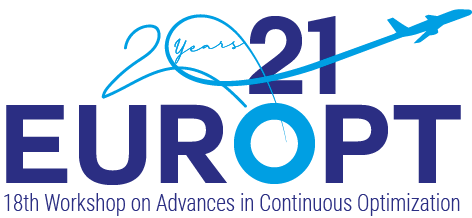 The 18th edition of the annual European conference of the European research group EUROPT, EUROPT Workshop on Advances in Continuous Optimization, organized by ENAC in collaboration with other Toulouse research establishments and institutes (IMT and INPT-ENSEEIHT) will be held in virtual from July 7 to 9, 2021.
The event will bring together a large number of international personalities in the field of optimization, with the aim of facilitating exchanges between researchers, students and professionals interested in the field of continuous optimization.
The evolution of the health situation and the difficulties which persist in international travel, finally led to the choice of the virtual format for the conference.
Despite the difficulties of the situation linked to the pandemic, the very large number of scientific contributions received shows that this edition of the conference is arousing considerable interest within the international scientific community.
Organising Committee
• Sonia Cafieri (ENAC, équipe OPTIM)- Conference Chair
• Nicolas Couellan (ENAC, équipe OPTIM)
• Sophie Jan (IMT)
• Frédéric Messine (LAPLACE-INPT-ENSEEIHT)
Scientific committee

30 personnalités internationales du domaine de l'optimisation
Sponsors
ENAC, EUROPT, EURO, IMT, INPT-ENSEEIHT, GDR-RO, GDR-MOA, ANITI, ROADEF
For more information, click here !