ENAC operates FNPT2 flight simulators (Flight Navigation and Procedure Trainer) which are DGAC approved and enable airline pilot training.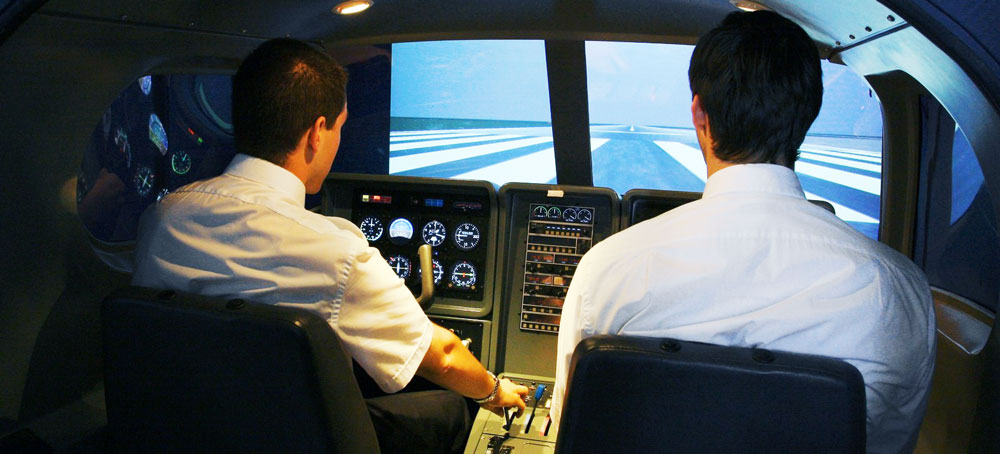 State of the art tools for pilot training
ENAC has simulators which correspond to the different types of aircraft used in its training. These simulators are replicas of the BE58, TB20 and DA42 cockpits.
These outstanding teaching tools significantly reduce the number of hours required in flight.
In particular the simulators allow trainees to practice emergency situations and instrument flight procedures.
Types of simulator
ENAC has 9 TB20 simulators, 3 BE58 simulators and 1 DA42 simulator.
A brand new A320 simulator has been installed in 2016 and approved by DGAC .
9 of these 14 simulators are equipped with a 180° visual display system which enables a full immersion virtual reality.
The simulators are allocated among the centres as follows:
Muret : 1 TB20 simulator
Carcassonne : 2 TB20 simulators
Montpellier : 2 TB20 simulators et 1 BE58 simulator
Grenoble : 2 TB20 simulators
Saint-Yan : 1 TB20 simulator et 2 BE58 simulators
Biscarrosse : 1 TB20 simulator
Melun : 1 DA42 Simulator
Toulouse : 1 A320 simulator
A320 simulator
The simulator is an exact replica of the aircraft cockpit and has been approved in 2016 by DGAC. As soon as it has obtained the FNPT2+MCC certification it can be used for MCC courses (Multi-Crew Cooperation = crew coordination).
All the aircraft systems have been reproduced accurately by means of an A320 data package (a collection of specifications and data from aircraft flight tests, sold by Airbus for simulator manufacture).
As a result the simulator features equipment such as two FMS (Flight Management System), a TCAS (Traffic Collision Avoidance System), a GPWS (Ground Proximity Warning System) etc.
The simulator is fitted with a 180° visual display system. It also has a smoke generation system for certain exercises.

The simulator can also be connected to the SVS system (Shared Virtual Sky) which will enable it to be integrated with ENAC air traffic simulators (but also with those of other schools and manufacturers) and thus offer new training possibilities.