All information to access our Toulouse and Montpellier campuses.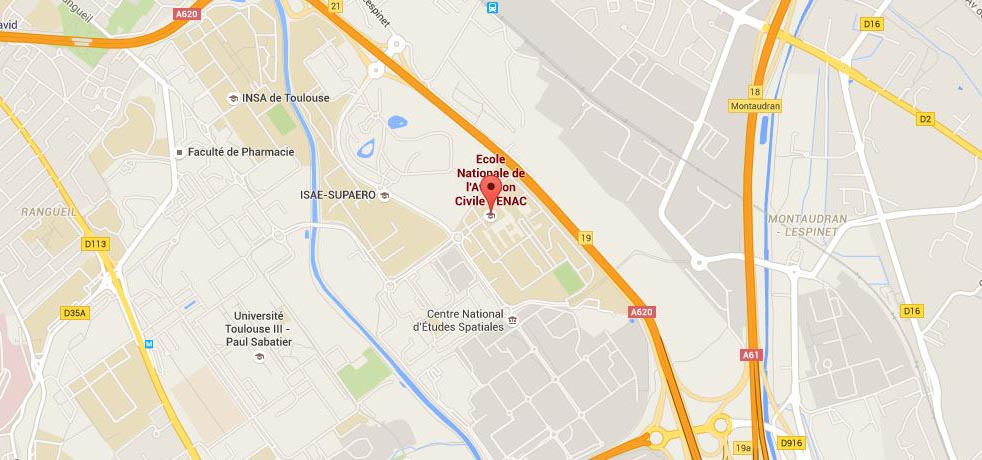 Toulouse Campus ///

Montpellier Campus ///
7 Avenue Edouard Belin
CS 54005
31055 Toulouse Cedex 4
FRANCE
Shuttle from Toulouse-Blagnac Airport

Free "Airport" shuttle, reserved for ENAC students, teachers and speakers according to availability.

Boarding on presentation of notification or student / trainee card.
By public transport
All information, maps and directions for public transportation in Toulouse are available on Tisseo website ///
Bus
N°68 - to La terrasse / Métro Ramonville
N°78 - to Université Paul Sabatier / Lycée St Orens
N°37 - to Jolimont / Métro Ramonville
Subway - Line B
Get off at Faculté de pharmacieFaculty and take bus N°78 to Lycée St Orens
Get off at Ramonville-Saint-Agne and take bus N°68 to "La terrasse"
Subway - Line  A
Get off at Jolimont and take bus N°37 to Ramonville Metro or bus N°68
By car

Take outer ring road (towards "Montpellier"), then follow "Toulouse center / Foix / Tarbes" (green sign). Exit N°20, follow "Complexe scientifique Rangueil".

GPS :
43.565156, 1.479281
By bike

The city of Toulouse offers a public bicycle service : VélôToulouse. Several stations are located near ENAC Toulouse campus.

Station plans, practical information and user guide on VélôToulouse website ///
By taxi

Ask for "Scientific Complex RANGUEIL" and ENAC (next to CNES).
Aéroport de Montpellier-Méditerrannée
34 134 Maugio Cedex
France
By car
Follow "Montpellier Méditerranée" then, when entering airport area turn right towards ENAC.
GPS :
43.579024, 3.952577
By train

Montpellier train station and then shuttle to airport terminal ///